Vocationl and Technical Education
Wisconsin and Chinese vocational and technical colleges cooperate to introduce a comprehensive quality-oriented curriculum and management system from the Wisconsin School Districts(Blackhawk Technical College,Mid-state Technical College,Northcentral Technical College) to provide Chinese students with international vocational and technical education and help them achieve a more competitive degree, technical diploma or certificate.
Blackhawk, Janesville
The Blackhawk Technical College central campus is located midway between the cities of Beloit and Janesville on approximately 80 acres (32 ha) of partially wooded rolling prairie. BTC offers approximately 50 programs leading toward an associate degree, technical diploma, certificate, or apprenticeship. While the majority of classes are held at the central campus, classes are also offered at the Center For Transportation Studies located north of Janesville, the Beloit, Wisconsin Center and at the Monroe, Wisconsin campus. In addition, Blackhawk Technical College has classrooms at the Rock County Job Center. The college serves approximately 14,000 students annually–about 6,000 credit and 8,000 non-credit students.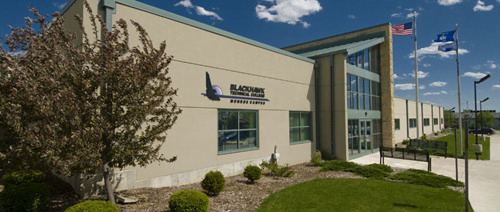 Northcentral, Wausau
At Northcentral Technical College (NTC), we break cycles. We've been doing it with pride for 100 years. So, whether you are looking to advance in your current career, or are reaching for a new and exciting job of tomorrow, NTC's 150+ associate degrees, technical diplomas and certificates can help you take your first step, or next step, in higher education. And, with two-thirds of the fastest growing occupations requiring a technical college education, NTC provides you with opportunities that prepare you for a future of possibility.