Introduction
This is an American summer school held in China. Students can experience and enjoy a different type of life in our summer school. They will live and communicate with humorous,knowledgeable and professional foreign teachers. In this way, students can improve their English, build a strong body, increase knowledge and develop practical skills.Our summer school provides a variety of activities and courses in different kinds of organizing ways.Our activities includes tiny farming, animal observation, visit to muesuems, safety education, games, 3D-printing, 4D-films, cake producing, barbecue and others.Students will also enjoy sports like football, basketball, volleyball and badminton. Generally, we help students to develop international views, guide them to gain confidences and encourage them to face difficulties in a better way.
· The subject of summer camp
Combine dynamic and static, improve people's inner and outer, walk to the direction of internationalization
·The optional projects of outdoor activities and quality development
Theme Education: experience farming, experience survival, observe animals, visit museums, safety education.
Quality Development: ground development, low-altitude rock climbing, delivering balls, Frisbee Ultimate, Caterpillar game
Technology activities: 3D printing, fantastic organic silicon, meteorological observation, 4D movies
Labor practices: make cakes, flowers and rice dumplings, outdoor barbecue, housekeeping
Sports: football, basketball, volleyball, badminton, shooting
American Summer School in Zhangjiagang Bailu Primary School,2017
July 20th, the ten-day "American Summer Camp" opened in this hot summer. In order to let more students experience the high quality of American education, Wisconsin Marshfield school district sent 4 American teachers to Zhangjiagang organizing this "American Summer Camp". These 4 American teachers with rich teaching experience have been repeatedly involved in the summer camp activities for many times. 13 middle school and high school students attended this summer camp. They would study together with Chinese and foreign teachers, broaden their horizons and have a meaningful summer camp in 10 days!
Foreign teachers'self-introduction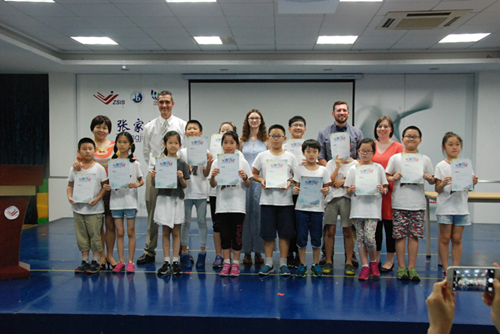 We are graduated
Doing homework under the guidance of teaching assistant
Learning words with the rhythm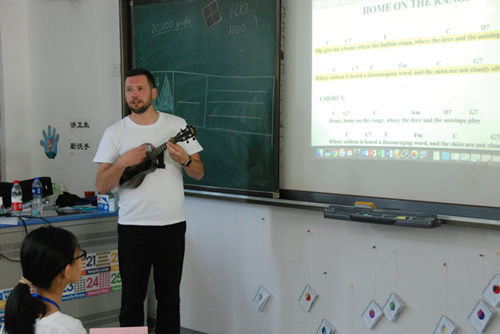 Teacher Andrew playing,singing and teaching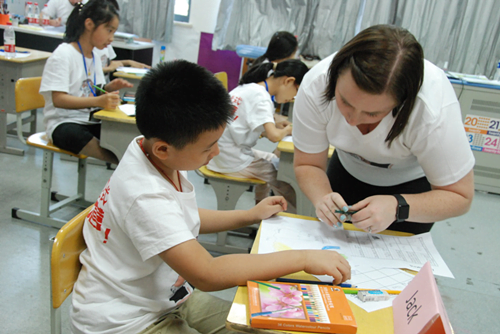 Painting in geography class
Muscle training in PE class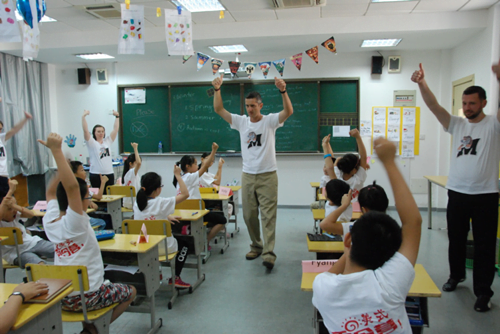 Vocabulary review