US students Visit China
Every year, Chinese schools will screen students to visit US schools, and they also welcome US students to come to China. On March 29, 2016 teachers and students from Craig High School visited Jiangsu Province Liangfeng Senior Middle School and started the10 days exchange learning activity. In the period of visiting, American students will be provided with Chinese families and help them to enjoy the real local Chinese culture. The students will have opportunities to visit and feel the city landscape, school education and local customs. It will be a memorable and excellent chance for US students to visit China for communication and exploration.
· Enterprise Tour
American students and students from Liangfeng Senior Middle School had a visit to Prent Corporation in Jiading District, Shanghai. Prent Corporation, headquartered in Janesville, Wisconsin, is an international company specialized in making sophisticated packaging products. Chinese manager of Prent made a brief introduction to the students, and a few American students took notes seriously.
Students took photo together after factory visit
Take notes seriously
Take photos in the working shop of the enterprise
·Arrive at Liangfeng Senior Middle School
Students and teachers from Craig High School arrived in Liangfeng Senior Middle School on the afternoon of March 29. After a brief visit, Liangfeng held a brief but solemn welcome ceremony for the American students and teachers. During the visit, Mr. Karl, the American leading teacher and the counselor of Craig High School constantly describe "Shock" which is what American students felt in China.
Here we come!
Go to the playground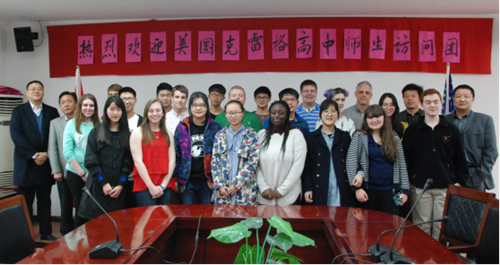 A brief and grand welcoming ceremony
·Visit Liangfeng Middle School
Visit Liangfeng Secondary School: Six teachers and fifteen students in the US Michigan Rochester school district visited Liangfeng Secondary School. Together with Chinese students and teachers, they had wonderful communication and interaction, as well as felt the Chinese educational teaching and showed a strong interest in Chinese culture.
Introduction in the meeting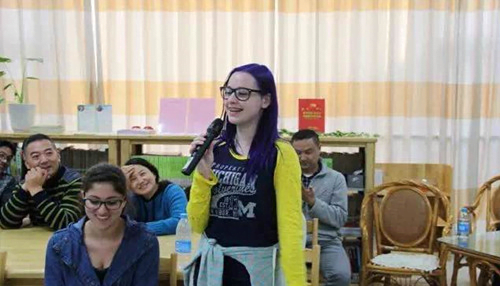 Leave my handprint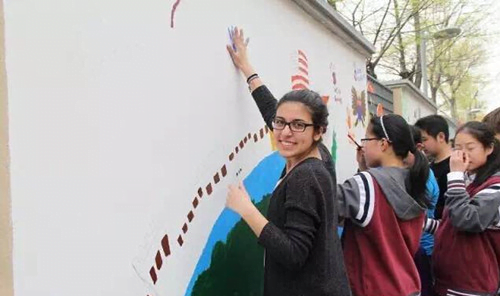 Amazing Chinese culture
·Visit Zhangjiagang Bailu Elementary School
Invited by Zhangjiagang Bailu Elementary School, students from Craig High School visited the Elementary school's calligraphy, seal cutting, Chinese language and clay sculpture. With warm invite, US students started to play mud and pick up writing brush.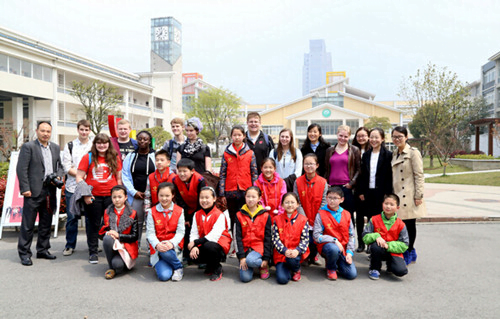 Take photo together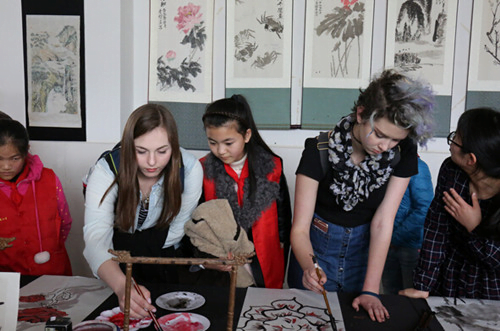 Draw the best flower in my heart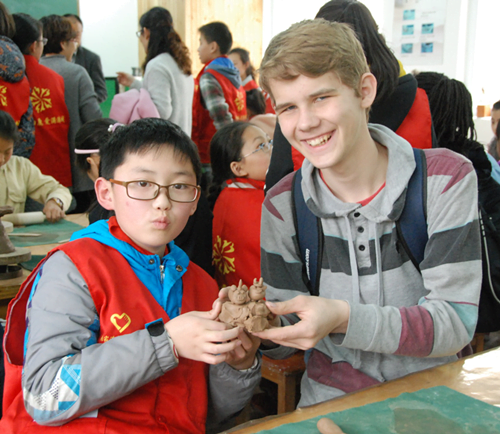 Our works