Chapter 1 : Opening Ceremony

On July 4, More than 280 students from 9 primary and secondary schools in Zhangjiagang gathered together in Zhangjiagang Liangfeng International School.The director of Zhangjiagang Education Bureau and the principals of affiliated schools, together with all the camp students, welcomed 17 summer camp teachers from the Rochester school district, Marshfield school district and Wauwatosa school district of the United States. During the ceremony, the principal representative of Chinese schools and the foreign teacher's representative of the school district delivered speeches respectively.
Chapter 2: Teaching program
The majority part of the International summer camp is American teachers adopts authentic American original teaching materials, and teach the whole subjects in English, so that children can experience the original American lessons and culture without going abroad.

The courses are divided into 6 major categories, including Language (oral dialogue, listening unlocking, picture-book reading/literary appreciation, thematic writing), Culture (American culture), Art (art appreciation, creative painting, interesting handwork, creativity and design), Sports (swimming, physical education, team activities), STEM or STEAM (STEM, fun math), Acting (animation dubbing, Drama, On stage).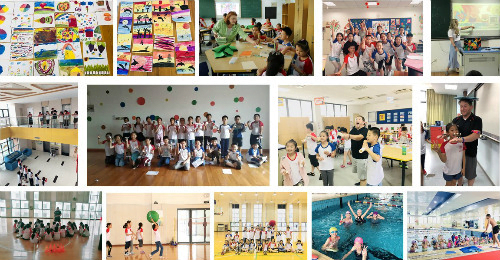 Chapter 3 : Lecture/ Family Night
During the summer camp, foreign teachers gave lectures on various aspects of American education to campers and parents, introducing the current situation of American primary school, middle school and family education, including classroom layout, students' curriculum, homework, home-school communication, examination methods, and common problems in family education. Some of the teachers are both teachers of the school and parents. They can analyze the parents and students on site more rationally and objectively, and give reasonable suggestions on family education, hoping that these suggestions can bring parents more educational methods from more angles.
Chapter 4 : Closing ceremony
On the last day of the summer camp, there was a closing ceremony. Nearly 200 parents also came to watch the performance and witness the harvest and growth of children in this summer camp.At the ceremony,all the 13 classes presented a wonderful report program led by foreign teachers, including songs, poems, stage plays and dances.The representative of the foreign teachers made a speech to conclude the camp and announce the end of the camp.

After the ceremony, the foreign teachers of each class issueed the graduation certificate to all the campers.Students expressed their heartfelt thanks to all the foreign teachers for this wonderful summer camp.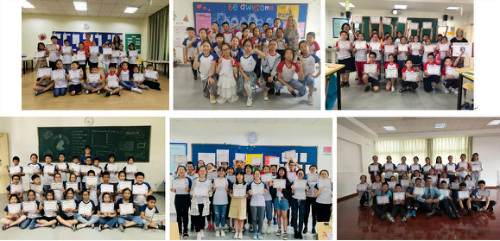 Chapter 5: Class observation and Academic workshops
In order to further promote academic exchanges and cooperation between Chinese and American teachers, and to enhance the mutual understanding of different teaching methods in China and the United States, two days' classroom observation activities and one day academic workshops are involved in this summer camp, which was such a great opportunity for Chinese primary and secondary school teachers to learn first-class teaching skills through watching American teachers' lessons.

On the basis of classroom observation, 8 workshops of different topic are carried out, disscusing and exchanging teaching experience and methods in various subjects. In addition, Chinese and American teachers talked about behavior management of primary and middle school students and school management philosophy, and learned from the good management experience of both sides.Teachers from America also had a chance to know more about the Chinese patten education.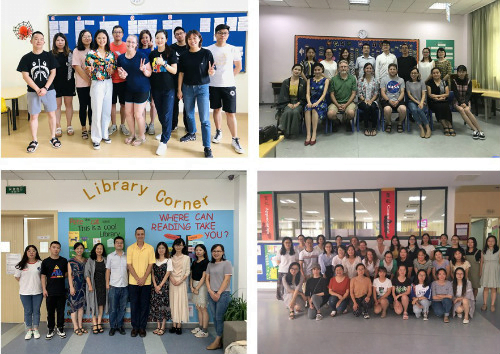 Chapter 6: Teachers' sightseeing in China
To thank all the foreign teachers for their hard work, the teachers went on a three-day sightseeing tour after the camp. As a popular saying goes, "There is paradise in heaven and there are Suzhou and Hangzhou on earth.The teachers visited the famous scenic spots of suzhou gardens, the imperial garden and the lion forest. And The Three Kingdoms/water margin city and Lake Taihu in Wuxi.Meanwhile, as an international metropolis in China, the foreign teachers also visited the famous scenic spots in Shanghai, such as The Oriental Pearl Tower  and Huangpu river and the Bund.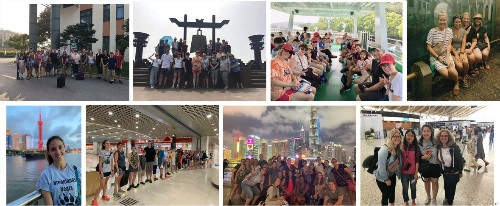 Summer Camp Teaching Program in China
10 Day Summer Camp Program
When
In early July
Where
Jiangsu Province, China
Camp Description
This opportunity is open to all School District teachers and professional staff. A teaching certificate is not necessary. School District teachers would teach for 10 days in a summer boarding camp situation for Chinese elementary and middle school students. Five lessons per day would be taught including English, basketball, soccer, arts, drama and other elective courses.
Teachers would be responsible for developing topics and preparing all lessons. Teachers would submit a draft outline ahead of time. Teaching materials and aids would be prepared by the Chinese school. Class sizes would be approximately 25-30 students. The amount of teaching time per day would be around 5-6 hours with scheduled breaks in-between. Teachers are not responsible for supervising students before or after camp in the dorms.
Fees, Costs, and Compensation
The Chinese schools will pay for breakfast, lunch, and dinner (these are provided in the school canteen or cafeteria). Accommodations will be arranged in teacher dormitory. If there's no teacher dormitory in camp school, accommodations will be arranged in Chinese teachers' families (first choice) or 3-stars hotel. Transportation within China is arranged by the Chinese schools. International air tickets will be purchased by teachers and then reimbursed in when the teachers arrive in China.
The Chinese school must approve the cost and travel dates of the flight ahead of time. Costs of Chinese visas that are payable to the Chinese Consulate would also be reimbursed. Teachers are not compensated for the summer camp teaching experience. Teachers are also not compensated if eating at restaurants outside of the school canteen.
Free Time and Touring
Generally, evenings are free and teachers can explore the city in which they are teaching. The school can assist in providing local tour options. The school can also assist in extending travel in China is requested although this would be at the teacher's expense.
Dress Code for Teachers
The dress should be same as regular class in U.S. School District.Welcome to join!