US Teachers Visit China for Communication and Interaction
Educational administrative departments strongly support the communications among Chinese and US teachers. We warmly welcome American teachers visit China and we vigorously advocate American teachers walking into the campus and experiencing modern Chinese education.
Teachers from School District of Marshfield came to China for summer camp
July 20th, the ten-day "American Summer Camp" opened in this hot summer. In order to let more students experience the high quality of American education, Wisconsin Marshfield school district sent 4 American teachers to Zhangjiagang organizing this "American Summer Camp". These 4 American teachers with rich teaching experience have been repeatedly involved in the summer camp activities for many times. 13 middle school and high school students attended this summer camp. They would study together with Chinese and foreign teachers, broaden their horizons and have a meaningful summer camp in 10 days!
Staff of Kennedy Primary School visited Zhangjiagang Experimental Primary School
Mr. Smiley, the official manager of the school district of Janesville in Wisconsin, Ms Leah, Carol and Stacy, managers of Kennedy primary school, visited Zhangjiagang Experimental Primary School on May 30, 2014. Students enjoyed the Children's Day together with these foreign teachers.
Vice district head of Janesville taught in china
U.S. teacher is introducing education in U.S. Students experienced culture differences and enjoyed this activity.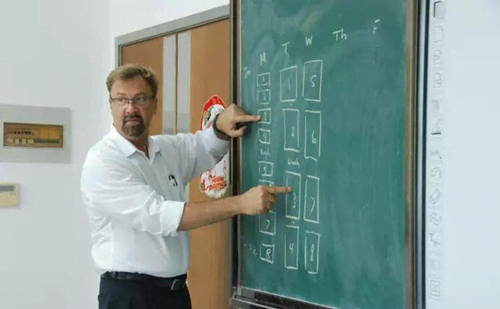 Staff of Janesville school district in Wisconsin of U.S. Visited Liangfeng Senior Middle School
Dr. Parr, the manager for education-databases of Wisconsin, and Mr. Krueger, the manager of primary school, visits Liangfeng High School on March 16th, 2015.
American high school entrance instructors Visits Liangfeng Senior Middle School
On March 27th, 3 academic guidance experts from Marshfield school district and Janesville school district of Wisconsin made a three-day visit to the International Department of Liangfeng high school. They are Anna, Director of the Office of International Affairs from Marshfield High School, Renae, Admission Instructor from Marshfield High School, and Karl, Admission Instructor from Craig high school. The main purpose of their visit was to make admission interviews for grade 12 students who applied for these two American high schools, as well as academic discussions with Chinese and foreign teachers of the international department.
Leader of Janesville School District visit China
In July 24th, Dr. Robert Smiley, the Deputy District Mayor and Chief Information Officer from Janesville school district, USA, visited Liangfeng High School International Department, held conversazione with Cheng Huanping, vice president of Liangfeng High School International Department, and had face-to-face communications with senior one and senior two students of international department.